A New Innovation Center In Wyoming Focuses On Finding Sustainable Ways To Use Coal
The future of coal as a major energy resource is fraught with uncertainty, given coal burning's detrimental impact on the environment. Coal accounted for more than two-fifths in the overall growth of CO2 emissions last year, reaching an all-time high of 15.3 billion tons, according to the International Energy Agency, to say nothing of the sulfur dioxide and nitrogen oxides each ton of coal burned produces. As of mid 2020, renewables surpassed coal as the second most-used electricity source in the U.S., behind natural gas, according to the U.S. Energy Information Administration (EIA).
"The phasing out of coal will … be fundamental to meet net-zero goals by 2050 globally. As highlighted by the IEA, all unabated coal needs to be phased out by 2040 to be on track to achieving net zero by 2050," states the World Economic Forum.
EIA estimated last October that there's more than 250 billion short tons of recoverable coal in the U.S. (A short ton is equivalent to around 2,000 lbs.) How much of this asset gets spent ultimately could depend on finding ways to use coal that are less toxic to the environment and populations, as well as politically and socially acceptable.
About 165 billion tons of that recoverable coal are in a region in Wyoming's Campbell County called C-Valley, which is where the Wyoming Innovation Center held its grand opening earlier this month. The 9.5 acres that the 5,500-sf innovation center sits on in the town of Gillette were once an active coal mine that was converted into an industrial park. The Innovation Center's mission is to provide a home to companies and researchers developing products using coal and coal byproducts.
NONCOMBUSTIBLE ALTERNATIVES
"The primary focus will be creating noncombustible uses for coal, first on a benchtop scale and then commercially," explained Ben Reeves, Project Manager and Architect for Arete Design Group in Sheridan, Wyo., the architect on the Innovation Center. BD+C interviewed Reeves with Micky Shober, Project Superintendent with Powder River Construction, the Innovation Center's general contractor.
The Innovation Center will also home in on extracting pivotal rare earth elements found in fly ash of coal burned at local power plants.
Reeves spoke specifically about Carbon Capture Utilization and Sequestration (CCUS) as one possible area of research. Shober suggested that oxygenation to burn coal more cleanly, and producing tar-like oil from coal for asphalt paving, could be other research avenues.
PART OF A BIGGER R&D PICTURE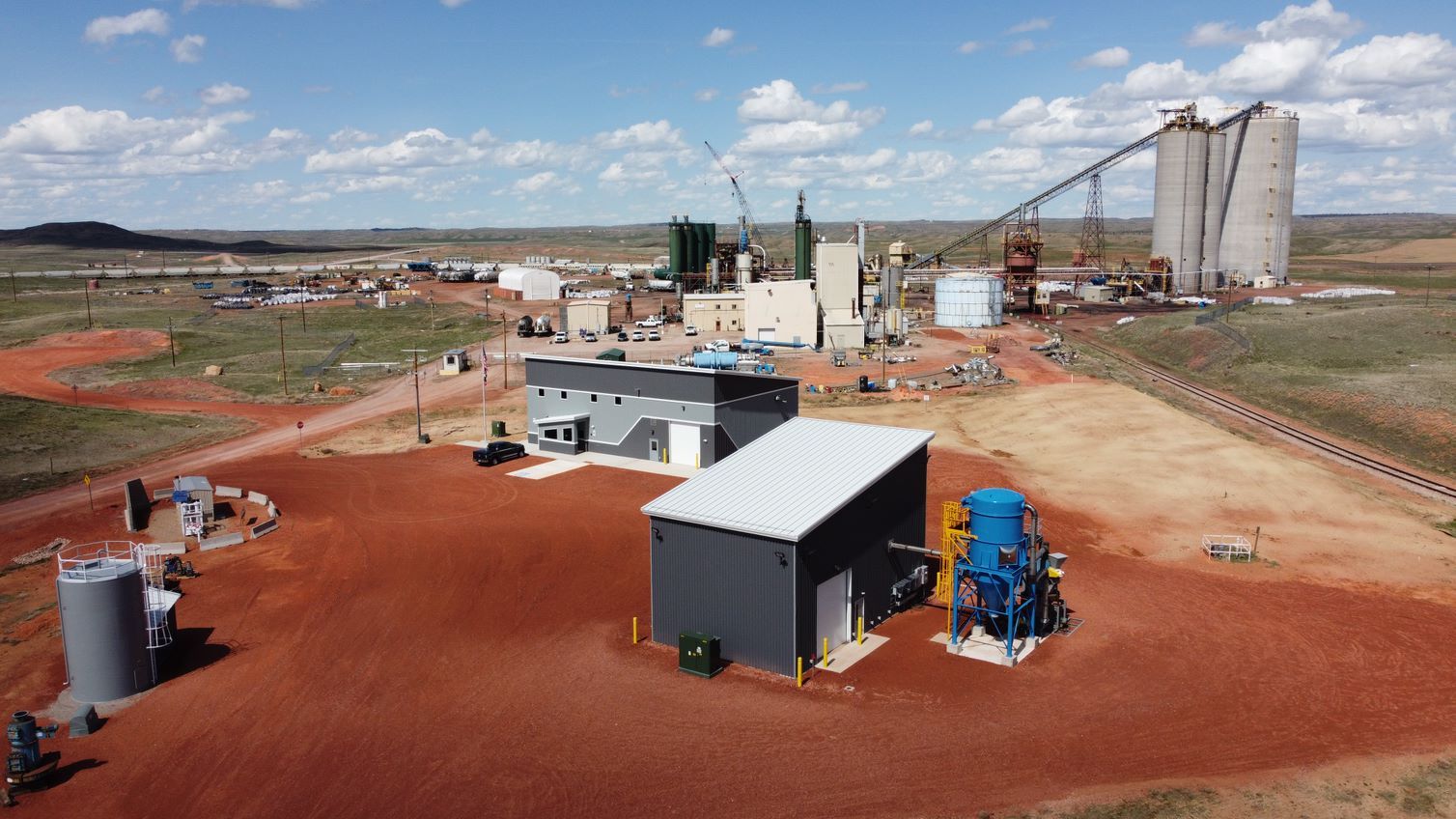 The Innovation Center is a relatively simple structure: a metal building on a concrete foundation. The design is basic, too, because "we don't know yet what the innovators will use the space for; there's no template," said Reeves. (The building's first tenant is the National Energy Technology Laboratory. And news reports have stated that the University of Wyoming is interested in renting space for at least three projects.)
The Innovation Center is among several projects that are exploring new options to address the lifecycle of carbon, including the University of Wyoming School of Energy Resources' CarbonSAFE project, the Wyoming Integrated Test Center, which opened in 2018 and has been testing CCUS technologies using 20 MW of actual coal derived from flue gas.
"The Innovation Center is further solidifying the C-Valley as an R&D hub," said Phil Christopherson, CEO of Energy Capital Economic Development (ECED), the Innovation Center's owner, who has been working on this project since 2015. "It will connect our workforce, provide a cleaner environment and ultimately strengthen our economy and community."
The Innovation Center itself consists of several components: there's a 4,000-sf building for offices and labs. Another 1,500-sf building is for materials handling and processing. Outside there are seven large open-air pads with power and water available. The site also has a small water pump house.
Reeves pointed out that another advantage of this site is the six-inch high-pressure gas line that runs through the property.
TARGETING A BROAD TENANT BASE
Reeves singled out Jim Ford, an energy and industry advisor for Campbell County, as being instrumental in helping the design and building team make decisions about the project. Reeves and Shober also praised ECED for, in Reeves' words, "drumming up" interest in the project, both locally, statewide, and beyond. The project received a $1.5 million grant from the Wyoming Business Council, a $1.46 million grant from the U.S. Economic Development Administration, and other funding from Campbell County and the city of Gillette.
Reeves and Shober expected the Innovation Center to draw entrepreneurs and researchers from outside the state.